The question becomes when does a PRIVATE space become a public space. One could argue that it becomes a public space when there is a certain amount of the population on it. However, population of what? A country? The world? HOW would an individual be able to compete with an entity that is transnational and has more power than MOST lobbies in any country. They are beyond even a UTILITY. They are Corporate Communists. They have centralized resources and you pay for them to distribute them. And, by the way, THEY are subsidized by your TAX payer dollars.
They are Bracing themselves for Trump but nothing about Biden or Hillary contesting an election.
And who uses the term "kill switch?"
Facebook Braces Itself for Trump to Cast Doubt on Election Results
The world's biggest social network is working out what steps to take should President Trump use its platform to dispute the vote.
By Mike Isaac and Sheera Frenkel
Aug. 21, 2020, 10:26 a.m. ET
SAN FRANCISCO — Facebook spent years preparing to ward off any tampering on its site ahead of November's presidential election. Now the social network is getting ready in case President Trump interferes once the vote is over.
Employees at the Silicon Valley company are laying out contingency plans and walking through postelection scenarios that include attempts by Mr. Trump or his campaign to use the platform to delegitimize the results, people with knowledge of Facebook's plans said.
Facebook is preparing steps to take should Mr. Trump wrongly claim on the site that he won another four-year term, said the people, who spoke on the condition of anonymity. Facebook is also working through how it might act if Mr. Trump tries to invalidate the results by declaring that the Postal Service lost mail-in ballots or that other groups meddled with the vote, the people said.
Mark Zuckerberg, Facebook's chief executive, and some of his lieutenants have started holding daily meetings about minimizing how the platform can be used to dispute the election, the people said. They have discussed a "kill switch" to shut off political advertising after Election Day since the ads, which Facebook does not police for truthfulness, could be used to spread misinformation, the people said.
The preparations underscore how rising concerns over the integrity of the November election have reached social media companies, whose sites can be used to amplify lies, conspiracy theories and inflammatory messages. YouTube and Twitter have also discussed plans for action if the postelection period becomes complicated, according to disinformation and political researchers who have advised the firms.
The tech companies have spent the past few years working to avoid a repeat of the 2016 election, when Russian operatives used Facebook, Twitter and YouTube to inflame the American electorate with divisive messages. While the firms have since clamped down on foreign meddling, they are reckoning with a surge of domestic interference, such as from the right-wing conspiracy group QAnon and Mr. Trump himself.
Journalism for every part of life.
In recent weeks, Mr. Trump, who uses social media as a megaphone, has sharpened his comments about the election. He has questioned the legitimacy of mail-in voting, suggested that people's mail-in ballots would not be counted and avoided answering whether he would step down if he lost.
Alex Stamos, director of Stanford University's Internet Observatory and a former Facebook executive, said Facebook, Twitter and YouTube faced a singular situation where they "have to potentially treat the president as a bad actor" who could undermine the democratic process.
How Queer Women Powered the Suffrage MovementFinal Meals at Closing Restaurants: 'I Will Dream of Those Dumplings''I Saw a Man Standing on One of the Paths in a Densely Wooded Area'Continue reading the main story
"We don't have experience with that in the United States," Mr. Stamos added.
Facebook may be in an especially difficult position because Mr. Zuckerberg has said the social network stands for free speech. Unlike Twitter, which has flagged Mr. Trump's tweets for being factually inaccurate and glorifying violence, Facebook has said that politicians' posts are newsworthy and that the public has the right to see them. Taking any action on posts from Mr. Trump or his campaign after the vote could open Facebook up to accusations of censorship and anticonservative bias.
In an interview with The New York Times this month, Mr. Zuckerberg said of the election that people should be "ready for the fact that there's a high likelihood that it takes days or weeks to count this — and there's nothing wrong or illegitimate about that."
14m agoThe Biden campaign says it raised more than $70 million during the D.N.C.3h agoHere are 7 takeaways from the Democratic National Convention.3h agoThe convention's TV ratings fell 18 percent from 2016, but Biden won the week.
A spokesman for Facebook declined to comment on its postelection strategy. "We continue to plan for a range of scenarios to make sure we are prepared for the upcoming election," he said.
Judd Deere, a White House spokesman, said, "President Trump will continue to work to ensure the security and integrity of our elections."
Google, which owns YouTube, confirmed that it was holding conversations on postelection strategy but declined to elaborate. Jessica Herrera-Flanigan, Twitter's vice president of public policy, said the company was evolving its policies to "better identify, understand and mitigate threats to the public conversation, both before or after an election."
Facebook had initially focused on the run-up to the election — the period when, in 2016, most of the Russian meddling took place on its site. The company mapped out almost 80 scenarios, many of which looked at what might go wrong on its platform before Americans voted, the people with knowledge of the discussions said.
Facebook examined what it would do, for instance, if hackers backed by a nation-state leaked documents online, or if a nation-state unleashed a widespread disinformation campaign at the last minute to dissuade Americans from going to the polls, one employee said.
ADVERTISEMENTContinue reading the main story
To bolster the effort, Facebook invited those in government, think tanks and academia to participate and conduct exercises around the hypothetical election situations.
An idea that came up during one exercise — that Facebook label posts from state media so users know they are reading government-sponsored content — was put into effect in June, said Graham Brookie, director of the Atlantic Council's Digital Forensic Research Lab, who joined the session.
"We can see that their policy decisions are being affected by these exercises," he said.
But Facebook was less decisive on other issues. If a post suggested that mail-in voting was broken, or encouraged people to send in multiple copies of their mail-in ballots, the company would not remove the messages if they were framed as a suggestion or a question, one person who advised the company said. Under Facebook's rules, it takes down only voting-related posts that are statements with obviously false and misleading information.
In recent months, Facebook turned more to postelection planning. That shift accelerated this month when Mr. Trump said more on the issue, two Facebook employees said.
On Aug. 3, Mr. Trump questioned whether the Democratic primary in New York's 12th Congressional District should be rerun because of long delays in counting mail-in ballots.
"Nobody knows what's happening with the ballots and the lost ballots and the fraudulent ballots, I guess," he said.
The next day, Mr. Trump broadened his attack, falsely stating that mail-in ballots lead to more voter fraud nationwide. "Mail ballots are very dangerous for this country because of cheaters," he said. "They go collect them. They are fraudulent in many cases."
Mr. Trump's comments alarmed Facebook employees who work on protecting its site in the U.S. election. On the group's internal chat channels, many wondered whether Mr. Trump would launch even more attacks against mail-in voting, one employee who saw the messages said. Some asked whether the president was violating Facebook's rules against disenfranchising voters.
Those questions were ultimately sent to Mr. Zuckerberg, as well as top executives including Joel Kaplan, the global head of public policy, the employee said.
In a staff meeting later that week, Mr. Zuckerberg told employees that if political figures or commentators tried declaring victory in an election early, Facebook would consider adding a label to their posts explaining that the results were not final. Of Mr. Trump, Mr. Zuckerberg said the company was "in unprecedented territory with the president saying some of the things that he's saying that I find quite troubling." The meeting was reported earlier by BuzzFeed News.
Since then, executives have discussed the "kill switch" for political advertising, according to two employees, which would turn off political ads after Nov. 3 if the election's outcome was not immediately clear or if Mr. Trump disputed the results.
The discussions remain fluid, and it is unclear if Facebook will follow through with the plan, three people close to the talks said.
In a call with reporters this month, Facebook executives said they had removed more than 110,000 pieces of content between March and July that violated the company's election-related policies. They also said there was a lot about the election that they didn't know.
"In this fast-changing environment, we are always sort of 'red teaming' and working with partners to understand what are the next risks?" said Guy Rosen, vice president of integrity at Facebook. "What are the different kinds of things that may go wrong?"
From –https://www.nytimes.com/2020/08/21/technology/facebook-trump-election.html
Twitter removes President Donald Trump's post touting a false 'cure' for COVID-19
David JacksonUSA TODAY0:181:46https://imasdk.googleapis.com/js/core/bridge3.402.1_en.html#goog_770376405
WASHINGTON – In another battle between Twitter and the Trump administration, the social media company has taken action against President Donald Trump and his son for posts that promoted bogus cures for COVID-19.
Twitter removed a post that Trump had retweeted in which a doctor proclaims, without evidence, that "there is a cure" for the coronavirus.
Trump passed up the chance to criticize the social media giant, telling reporters at a White House news conference he did not know why Twitter and other companies removed the video in question.
"Maybe they had a good reason, maybe they didn't," he said.
Trump also defended the doctor who claimed there was a coronavorus cure (and has said that alien DNA is being used in medical treatments). "I thought her voice was an important voice, but I know nothing about her," he said.
Twitteralso restricted the account of Donald Trump, Jr., after removing a post in which doctors touted the alleged benefits of "hydroxychloroquine" in fighting the coronavirus. The president's son was blocked from tweeting for 12 hours.
Protesting the decisions by Twitter, Trump Jr. spokesman Andrew Surabian said that "Big Tech is intent on killing free expression online and is another instance of them committing election interference to stifle Republican voices."
Twitter, which has fact checked previous Trump tweets, said it was following its own rules prohibiting the dissemination of bad information about the virus that has claimed nearly 150,000 American lives.
The president's re-tweet "was in violation of our COVID-19 misinformation policy," Twitter said in statement.
As for the president's son, Twitter sent a notice saying "we've temporarily limited some of your account features" for violating the policy on "spreading misleading and potentially harmful information related to COVID-19."
More:Twitter makes about-face on Trump tweets but stops short of banning the president
More:Trump's social media order to have agencies review whether Twitter, Facebook can be sued for content
Most of the disputes revolve around efforts by Trump and allies to tout hydroxychloroquine, despite testimony from medical experts – including members of Trump's own staff – that the anti-malaria drug is not effective in stopping the coronavirus.
Earlier this month, the Food and Drug Administration warned against the use of hydroxychloroquine for the virus, citing safety issues that included "reports of serious heart rhythm problems and other safety issues, including blood and lymph system disorders, kidney injuries, and liver problems and failure."https://platform.twitter.com/embed/index.html?creatorScreenName=usatoday&dnt=false&embedId=twitter-widget-0&frame=false&hideCard=false&hideThread=false&id=1288101467581227011&lang=en&origin=https%3A%2F%2Fwww.usatoday.com%2Fstory%2Fnews%2Fpolitics%2F2020%2F07%2F28%2Ftwitter-removes-donald-trump-post-touting-false-cure-covid-19%2F5525358002%2F&siteScreenName=usatoday&theme=light&widgetsVersion=223fc1c4%3A1596143124634&width=550px
There is no known cure for the coronavirus, as scientists across the globe scramble to develop a vaccine.
Trump promoted hydroxychloroquine in a series of retweets late Monday. They included the retweet of a post attacking Anthony Fauci, a key member of the coronavirus task force, for dismissing the value of drug.
In an interview Tuesday on ABC's Good Morning America, Fauci said he agreed with the FDA's assessment of hydroxychloroquine and added that "I have not been misleading the public under any circumstances."
During the White House news conference, Trump defended his support of the drug hydroxychloroquine, noting he took it for a period of time earlier this year. "I happen to think it works in the early stages," Trump said. "It's safe – I had no problems … It didn't get me."
Twitter removed a Trump retweet of a post featuring a Houston doctor named Stella Immanuel.
The Daily Beast reported that Immanuel has also said that face masks aren't necessary to prevent the spread of the coronavirus, and has also made claims "about alien DNA and the physical effects of having sex with witches and demons in your dreams."
In defending the video, Trump said it included several doctors talking about hydroxychloroquine, and "I think they're very respected doctors. There was a woman who was spectacular in her statements about it and she's had tremendous success with it."
Twitter has cracked down on Trump tweets before.
In May, Twitter fact-checked tweets by Trump claiming there was "no way" an election with mail-in ballots could be legitimate. The company also put a warning label on a Trump tweet in which he appeared to advocate the shooting of protesters by using the phrase "when the looting starts, the shooting starts."
Also that month, Trump signed an executive order asking federal regulators to review laws that protect websites from legal liability, a move that in theory would make it easier for people to sue companies like Twitter.
from https://www.usatoday.com/story/news/politics/2020/07/28/twitter-removes-donald-trump-post-touting-false-cure-covid-19/5525358002/
Facebook and Twitter restrict Trump accounts over 'harmful' virus claim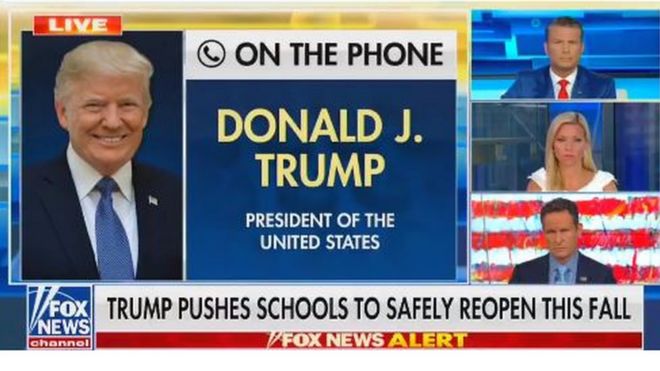 Facebook and Twitter have penalised Donald Trump and his campaign for posts in which the president claimed children were "almost immune" to coronavirus.
Facebook deleted the post – a clip from an interview Mr Trump gave to Fox News – saying it contained "harmful Covid misinformation".
Twitter followed by saying it had frozen a Trump campaign account until a tweet of the same clip was removed.
US public health advice makes clear children have no immunity to Covid-19.
What did Facebook and Twitter say?
A Facebook spokesperson said on Wednesday evening: "This video includes false claims that a group of people is immune from COVID-19 which is a violation of our policies around harmful COVID misinformation."
It was the first time the social giant had taken action to remove content posted by the president based on its coronavirus-misinformation policy, but not the first time it has penalised Mr Trump over content on his page.
Later on Wednesday, Twitter said it had frozen the @TeamTrump account because it posted the same interview excerpt, which President Trump's account shared.
A Twitter spokesman said the @TeamTrump tweet "is in violation of the Twitter Rules on COVID-19 misinformation".
"The account owner will be required to remove the Tweet before they can Tweet again."
It later appeared to have been deleted.
Twitter last month temporarily suspended Mr Trump's son, Donald Jr, for sharing a clip it said promoted "misinformation" about coronavirus and hydroxychloroquine.
But in March, Twitter said a tweet by entrepreneur Elon Musk suggesting children are "essentially immune" to coronavirus did not break its rules.
What did Trump say in his TV interview?
Speaking by telephone to morning show Fox and Friends on Wednesday, Mr Trump argued it was time for all schools nationwide to reopen.
He said: "If you look at children, children are almost – and I would almost say definitely – almost immune from this disease.
"So few, they've got stronger, hard to believe, I don't know how you feel about it, but they've got much stronger immune systems than we do somehow for this.
"And they don't have a problem, they just don't have a problem."
Mr Trump, who is running for re-election in November, also said of coronavirus: "This thing's going away. It will go away like things go away."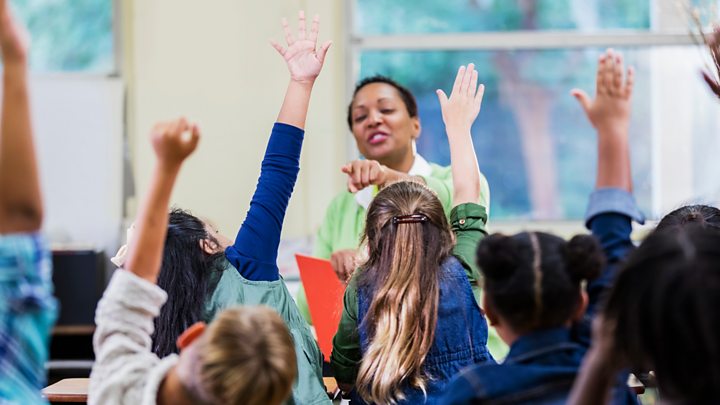 How dangerous is coronavirus for children?
Children can catch and transmit the virus, but they run an extremely low risk of becoming ill from it.
Adults – and particularly older adults – are far more likely to be seriously ill and die from complications.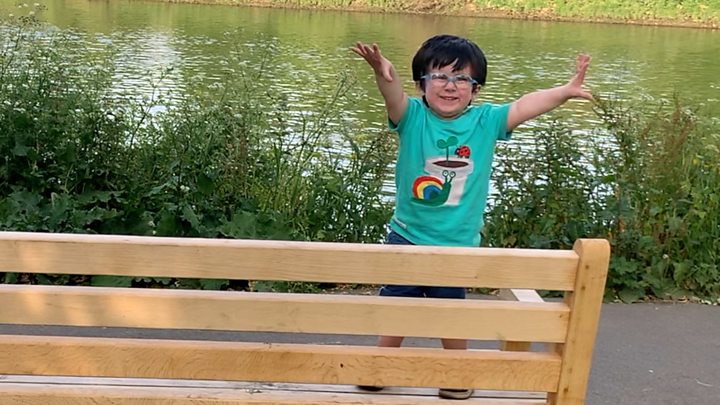 The largest study done so far, involving more than 55,000 hospital patients, found that only 0.8% were under the age of 19.
Half of all the people with confirmed coronavirus who were admitted to critical care units in England, Wales and Northern Ireland were 60 or older as of 31 July, according to a research charity.
A recent US study of coronavirus cases among 7,780 children from 26 countries found almost one in five patients had no symptoms. Another one in five developed lesions on their lungs during the infection.
Some 3.3% were admitted to intensive care units and seven deaths were reported, according to the research from the University of Texas Health Science Center at San Antonio.
A study from the London School of Hygiene and Tropical Medicine found that people under 20 were about half as susceptible to coronavirus infection as those over 20.
There have been some extremely rare cases of children developing an inflammatory syndrome similar to Kawasaki disease, and scientists are exploring a possible delayed immune response to coronavirus.
Why did Facebook last take down a Trump post?
In June, Facebook said it had removed adverts for President Trump's re-election campaign that featured a symbol used in Nazi Germany.
The company said the offending ad contained an inverted red triangle similar to that used by the Nazis to label opponents such as communists.
Mr Trump's campaign team said the far-left activist group antifa uses the symbol and it was a reference to them.
The ads, which were posted on the site on pages belonging to President Trump and Vice-President Mike Pence, were online for about 24 hours and had received hundreds of thousands of views before they were taken down.
Are US schools reopening amid pandemic?
Hundreds of school districts around the country have scrapped plans to reopen as coronavirus infections have spiked in a number of US states.
Some 20 of the nation's largest 25 school districts have announced they will start remotely.
Among the schools that are not reopening is one attended by the president's son, Barron Trump, in suburban Maryland.
St Andrew's Episcopal School said in a letter to parents it would opt instead for virtual learning to protect the health of students, families and staff.
Last week Georgia's largest school district, Gwinnett County, returned to school campuses to start planning for autumn reopening.
A day later, 260 employees had been told to stay away from their schools because they tested positive for coronavirus, or had been exposed to someone else who had the infection.
One of the first school districts in the nation to reopen, near Indianapolis, Indiana, had a student test positive on the first day.
The child's parents had sent him to campus, knowing that his test result was pending, schools officials said.
Other students who had come within 6ft of the patient for more than 15 minutes were sent home to self-isolate for 14 days.