As an immigrant from the USSR, I am so mad that voter fraud is being called false when that is clearly a LIE!!!!!!!!!!!!!
The next time someone tell you that voter fraud is not real, refer to this article below:
Stolen Elections Show the Vulnerabilities of Absentee Ballots
Jul 24th, 2020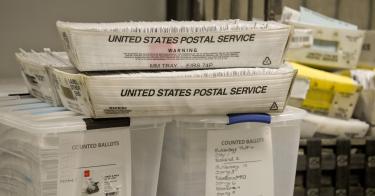 Stacks of mail-in ballots on June 3, 2020 in Reading, PA.
Hans A. von Spakovsky
@HvonSpakovsky
No question about it: some people need absentee ballots—those with disabilities, those living abroad and others who can't make it to the polls on Election Day. But pushing for more absentee balloting—even all-mail elections—is unwise. It would make election fraud far easier.
In-person voting occurs under the supervision of election officials, with election observers there to make sure everything is on the up-and-up. This transparency is a vital hallmark of the democratic process. Mail-in ballots, however, are susceptible to being stolen, altered, forged and forced.
All states ban electioneering in polling places, but there are no such bans on electioneering in voters' homes. This leaves at-home voters vulnerable to intimidation and coercion by campaign staffers, political party activists, and others with a vested interest in the electoral outcome.
Four elections in California, Florida, Indiana, and North Carolina—stolen through absentee-ballot fraud—demonstrate some of the problems.
In 1991, school board elections in Fresno, California, were overturned due to "widespread illegal voting practices that permeated this election—including fraud and tampering" with absentee ballots. A local political organization took over the voter registration and absentee balloting process, completely controlling the application, delivery, completion and return of the absentee ballots of minority voters. Some were pressured to vote for specific candidates. Others had their ballots filled out without their consent or consultation.
>>> A Sampling of Recent Election Fraud Cases from Across the United States
Six years later, a court overturned a Miami mayoral election because of massive fraud involving 5,000 absentee ballots. A city commissioner and his chief of staff were among the 55 defendants convicted of fraud. Some voters were bribed for their absentee ballots. Some somehow managed to submit absentee ballots from the grave, as did others who weren't even Miami residents. And many poor and elderly voters were coerced or had their ballots stolen and voted for them—effectively disenfranchising them.
In 2004, the Indiana Supreme Court threw out the results of a 2003 mayoral primary in East Chicago because the incumbent mayor and his cronies "perverted the absentee voting process and compromised the integrity and results of that election." Just as in Fresno and Miami, the fraudsters in East Chicago targeted "first-time voters" and others "less informed or lacking in knowledge of the voting process, the infirm, the poor, and those with limited skills in the English language" for their absentee ballots. The trial judge said this case provided a "textbook" example of the "chicanery that can attend the absentee vote cast by mail."
Just two years ago, a North Carolina congressional race was overturned by the state election board because of "concerted fraudulent activities related to absentee by-mail ballots." And the New Jersey attorney general has just charged four people in Paterson with engaging in absentee ballot fraud so pervasive that it has cast doubt on the results of the city's recent municipal, all-mail election.
This brief review doesn't even take into account the millions—yes, millions—of absentee ballots that the U.S. Election Assistance Commission reports were either misdelivered by the Postal Service or rejected by election officials after they were returned by voters in the last four federal elections.
Using all the same safety protocols recommended by health experts that are allowing us to go to our grocery stores and pharmacies, there is no reason we can't vote safely in our polling places in November, rather than hoping that someone else—including the Postal Service—will deliver our ballot in time to be counted.
This piece originally appeared in The Washington Times
from https://www.heritage.org/election-integrity/commentary/stolen-elections-show-the-vulnerabilities-absentee-ballots