Turkish President Vows to 'Liberate' Israeli Mosque Days After Controversial Hagia Sophia Move
As he announced the conversion of the former Byzantine cathedral Hagia Sophia into a mosque, on Friday, Turkish President Recip Erdogan  also called for the "liberation" of a mosque in Israel.
Erdogan announced that Hagia Sophia, which had been a museum since 1934, will open for prayers on July 24, according to NBC.
He also stressed that the structure, built in 537 A.D., would still welcome all.
"I underline that we will open Hagia Sophia to worship as a mosque by preserving its character of humanity's common cultural heritage," he said in a televised address to the nation, according to the network. "Like all of our other mosques, the doors of Hagia Sophia will be open to all, locals or foreigners, Muslims and non-Muslims."
But elsewhere in the remarks came language that raised eyebrows in Israel, where the al-Aqsa mosque stands in the Old City of Jerusalem
A report in the Jerusalem Post said the language was tweaked, depending on whether the speech was rendered in Turkish, English or Arabic.
The Arabic version talks of the "return of freedom to al-Aqsa," the Jerusalem Post reported.
The Arabic version also discusses spreading Islam "from Bukhara in Uzbekistan to Andalusia in Spain." No references to Spain are in the Turkish text, the Post reported.
"This terminology, linking al-Aqsa in Jerusalem to Hagia Sophia and Spain, is a kind of coded terminology for a wider religious agenda," the Post reported.
The Jewish News Service, citing a pro-government Turkish publication, reported Erdogan  as saying that the "resurrection of Hagia Sophia was the harbinger of the liberation of Masjid al-Aqsa [Al-Aqsa Mosque] and footsteps of Muslims' will to leave hard days behind."
In an opinion piece for the Israeli newspaper Haaretz, Louis Fishman, an assistant professor at Brooklyn College, said Erdogan is trying to portray himself as a Muslim hero.
"Among Islamist groups, the restoration of Hagia Sophia to a Muslim house of prayer is nothing less than proof that Islam is winning its ancient battle with the West, and that includes against the 'new Crusaders – Israel,'" he wrote.
He wrote that the Turkish president's focus on Muslim groups was "made explicit by the wildly divergent official texts that Erdogan's office put out in English (determinedly pluralistic: 'Hagia Sophia's doors will be…wide open to all, foreign or local, Muslim or non-Muslim') and Arabic (more aspirationally militant: the 'Revival of Hagia Sophia is a sign of the return of freedom to the Al-Aqsa mosque.')"
The different words appeal to different groups Erdogan wants to support him as their hero, Fishman wrote.
"Hardcore Islamists accept Erdogan maintaining relations with Israel as a necessary evil, a prelude to him marching into Jerusalem one day and liberating the Al-Aqsa mosque in person. More moderate followers' more realistic scenario would have Erdogan as the key facilitator and mentor of a Palestinian state alongside Israel, with Jerusalem's Al-Aqsa mosque under Palestinian sovereignty," he wrote.
The Hagia Sophia that stands today is the third by that name, according to History.com.
The first was begun as a Christian basilica in the reign of Byzantine Emperor Constantius in the year 360. The structure was burned to the ground in 404 and rebuilt in 415 under Emperor Theodosios II. The current structure was built during the reign of Byzantine Emperor Justinian I and is nearly 1,500 years old.
After the fall of Constantinople in 1453, the Hagia Sophia became a mosque until 1934, when it was converted into a museum.
This article appeared originally on The Western Journal.
from – https://thefederalistpapers.org/us/turkish-president-vows-liberate-israeli-mosque-days-controversial-hagia-sophia-move
AND here's frustrated out of INDIA –
'This is open provocation,' Christian world slams wannabe Khalifa Erdogan as Turkey picks religious fight at Hagia Sophia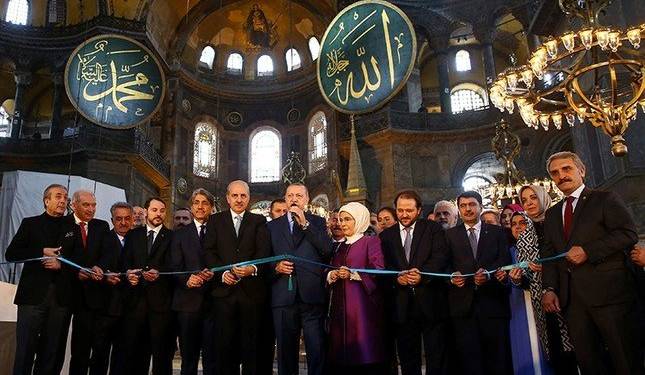 Hagia Sophia, whose fate has now been 
converted
 from a secular Museum into a Mosque exemplifying the glory of a plunderous Ottoman empire, is bound to emerge as a tremendous 
bone of contention
 between Christians and Muslims worldwide. Under a rabidly radical Recep Tayyip Erdogan, an administrative court ruled on Saturday that Hagia Sophia was to be converted into a Mosque, effectively overturning the country's founder – Mustafa Kemal Atatürk's decision to preserve the UNESCO World Heritage Site as a museum open for all.
The world community is dismayed, and is visibly irritated with Erdogan heralding into Turkey a popular nationalist sentiment, which in reality is nothing more than crude Islamism. As such, symbols of interfaith camaraderie are being turned into Mosques, in what are ways for Erdogan to solidify his ambitions of becoming the Caliph of the Muslim world.
Greece has minced no words, and its cultural minister lambasted Erdogan-led Turkey for the unilateral change of status of the iconic Hagia Sophia. For the record, Hagia Sophia was the main seat of the Greek Orthodox Church and remained so until the conquest of Byzantine or Eastern Roman Empire by the Ottomans. Greece branded Turkey's move an "open provocation to the civilised world", and its Culture Minister – Lina Mendoni said, "The nationalism displayed by Erdogan…takes his country back six centuries," Culture Minister Lina Mendoni said in a statement. He added that the move "absolutely confirms that there is no independent justice" in Turkey.
Read: Turkey takes over 'Church' Hagia Sophia to turn it into a mosque, lobby that cried for Babri Masjid falls silent
The Russian Orthodox Church was particularly outraged by Erdogan using the country's joke of a judiciary to superimpose his own will over Hagia Sophia. "The concern of millions of Christians has not been heard," Russian Orthodox Church spokesman Vladimir Legoida said in comments carried by the Russian news agency Interfax. "Today's court ruling shows that all calls for the need for extreme delicacy in this matter were ignored," Legoida said. Officially, meanwhile, Russia voiced its disappointment at the decision. Vladimir Dzhabarov, deputy head of the foreign affairs committee in the Russian upper house of parliament, while calling the action "a mistake", said, "Turning it into a mosque will not do anything for the Muslim world. It does not bring nations together, but on the contrary brings them into collision."
Voicing the US' protest, Morgan Ortagus, State Department spokesperson, said in a statement, "We are disappointed by the decision by the government of Turkey to change the status of the Hagia Sophia…We understand the Turkish Government remains committed to maintaining access to the Hagia Sophia for all visitors, and look forward to hearing its plans for continued stewardship of the Hagia Sophia to ensure it remains accessible without impediment for all."
Josep Borrel, the European Union's foreign policy chief called Erdogan's decision regrettable, and added, "The ruling by the Turkish Council of State to overturn one of modern Turkey's landmark decisions and President Erdogan's decision to place the monument under the management of the Religious Affairs Presidency is regrettable."
Cypriot Foreign Minister Nikos Christodoulides, a Greek Cypriot himself, said that Cyprus "strongly condemns Turkey's actions on Hagia Sophia in its effort to distract domestic opinion and calls on Turkey to respect its international obligations".
UNESCO, meanwhile, while saying the decision was "regrettable," said its World Heritage Committee would review Hagia Sophia's status. It remarked that it was "regrettable that the Turkish decision was not the subject of dialog nor notification beforehand".
Read: Erdogan has his eyes on Hagia Sophia and it can restart a full-blown war between Christianity and Islam
"UNESCO calls on the Turkish authorities to open a dialog without delay in order to avoid a step back from the universal value of this exceptional heritage whose preservation will be reviewed by the World Heritage Committee in its next session," the United Nation's cultural body said in a statement.
As is evident, Erdogan's unilateral move to change the status of the Hagia Sophia museum, which is revered both by Christians and Muslims alike, has not gone down well with the world community, and interestingly, not even Turkey's supposed 'allies' are standing in its support on this count.